THE FUTURE IS NOW
RSVP
FOR THE LARGEST LIVE
VIRTUAL ART AND MUSIC EVENT
IN HISTORY
WHO:
Everyone is welcome!
You, fellow humans, OG Burners, Virgin Burners, Artist, Creatives, Art & Music Lovers, Free-thinkers, Sparkle Ponies…… and Yes…. even your Mom!
WHERE:
Your living room, worldwide.
WHAT:
Virtual experience of Black Rock City
Escape time and leave this dimension…. RSVP to experience the Multiverse, and be a part of the largest live virtual art and music event in history.
Explore the depths of this virtual Black Rock City simulated in its full seven square miles, revealing the official 2020 Burning Man honoraria art projects. Meet new friends and attend one of many live music events, featuring world-famous DJs. You can even attend a theme camp workshop and learn something new.
HOW:
You can experience Multiverse on iOS and Android phones as well as VR headsets.
The best way to enjoy the full Multiverse experience is Oculus quest. You don't want to miss this! If you can't get one, don't worry. We have got you covered! Multiverse is available on both iOS and Android phones. Yay, for all-inclusivity!
FOLLOW US ON SOCIAL MEDIA FOR IMPORTANT UPDATES THROUGHOUT BURN WEEK!
2020 Art Map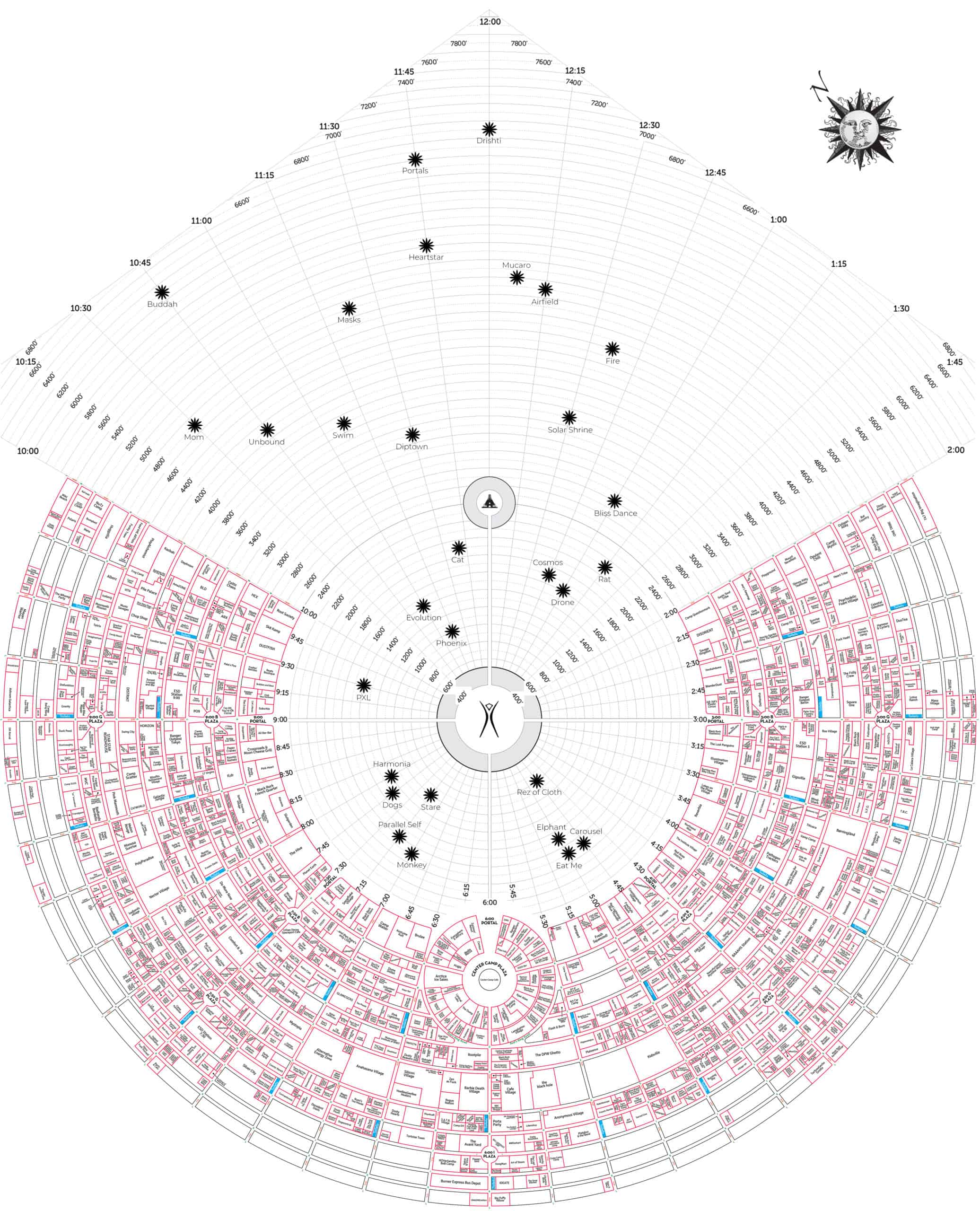 Dusty greetings from Multiverse. We are a recognized Universe of the Burning Man Multiverse. For the first time in the history of humanity, you're about to experience another realm that you can live in. This will have a profound impact on you. You will encounter another dimension as real as this. You will spend hours living in another universe. Your consciousness travels with you while your actual body remains in this dimension. You will occasionally come back to this reality and start asking yourself "what is reality?". You will wonder if the dimension where your physical body resides in maybe just another simulation. Maybe it is! 
In the magical virtual Black Rock City, you will encounter a real-size playa. You will see the beautiful art of the Honoraria artists 2020. You will listen to live music by the world-famous DJs at one of 70 music stages that broadcast live music from around the world. You will explore the entire campground and attend workshops being broadcasted live by one of the few hundreds of camps.  Countless camps and artists have been working tirelessly for the last few months to create this amazing experience.
You will realize that the only difference with what you experienced in this dimension is that you won't get dust on your feet. But wait! there are even dust storms in there, so bring a pair of virtual goggles.  You will appear as a 3D avatar that you design. Forget about driving a bike in the virtual playa. How about a levitating hoverboard? In the virtual playa, you can talk to other burners via live voice, you can explore the playa with a group of friends, you can attend live workshops and music stages. You can even dance with people! Yes! If you use a VR headset, you can dance with others. If you don't have a VR headset, no problem, you just come in with your mobile phone. 
Life will never be the same after this experience. 
Want to help us?
(1) Please spread the word. We want the world to learn about Burning man and its values.
(2) Please donate to us to offset the enormous cost of developing this platform.